Produk
Description
RK900-05 Wireless Home Weather Station used to measure the indoor temperature and humidity and outdoor temperature and humidity, atmospheric pressure, light, ultraviolet radiation, wind speed and direction, dew-point,rainfall, large screen color LCD display and built-in large capacity storage function, the product can be through the WIFI meteorological data uploaded to www.wunderground.com, also can through the APP to view data, suitable for installation in the garden, villa, park, country house and other areas.
Feature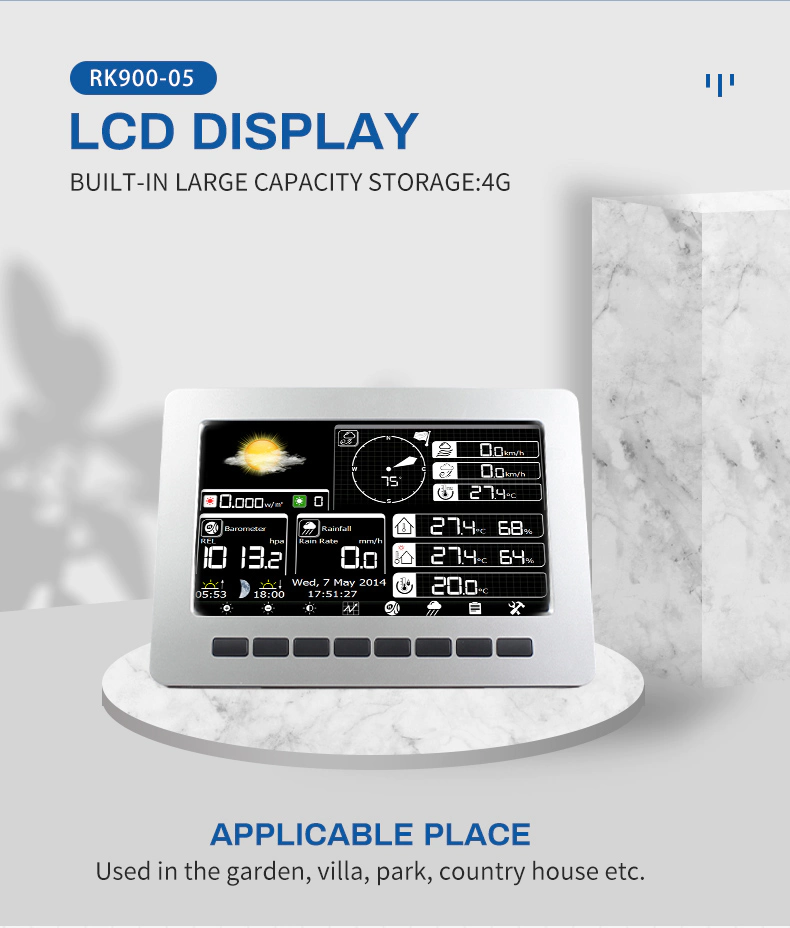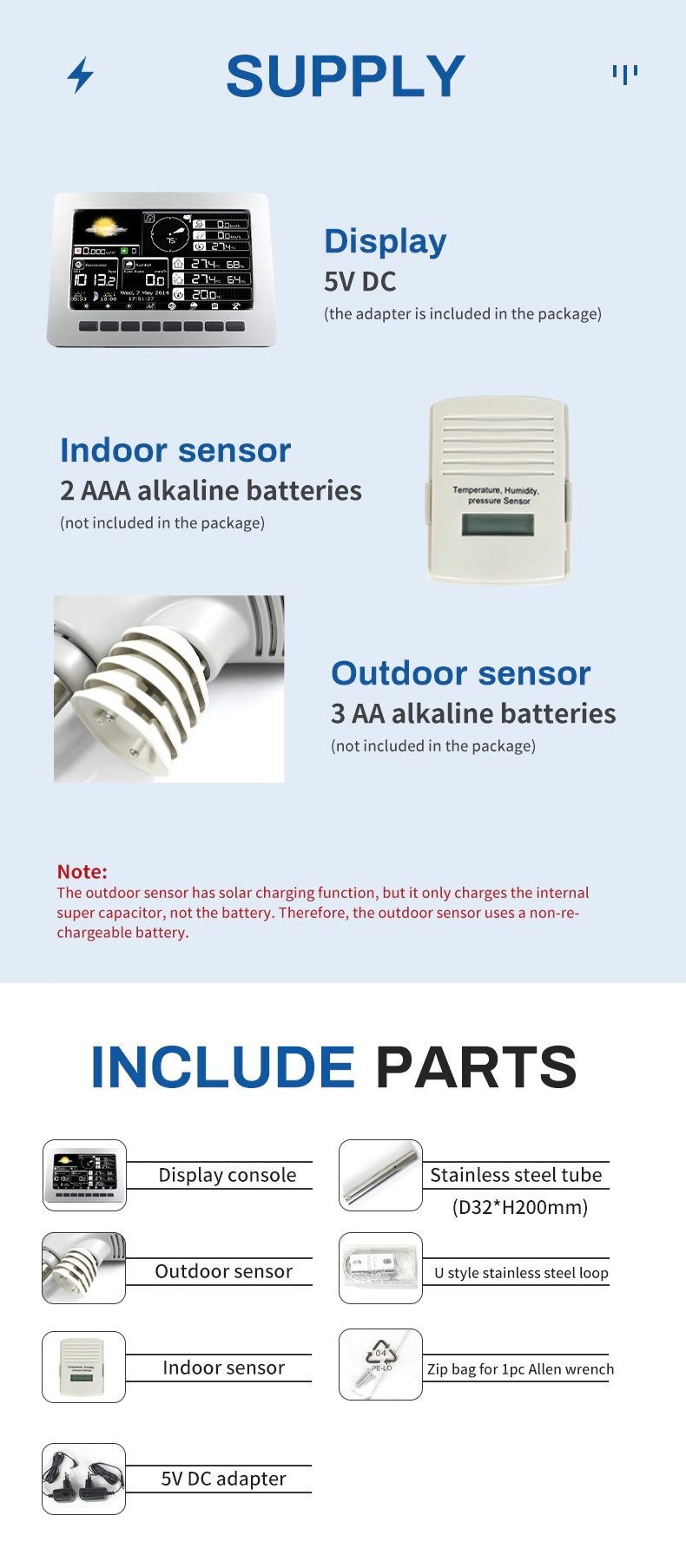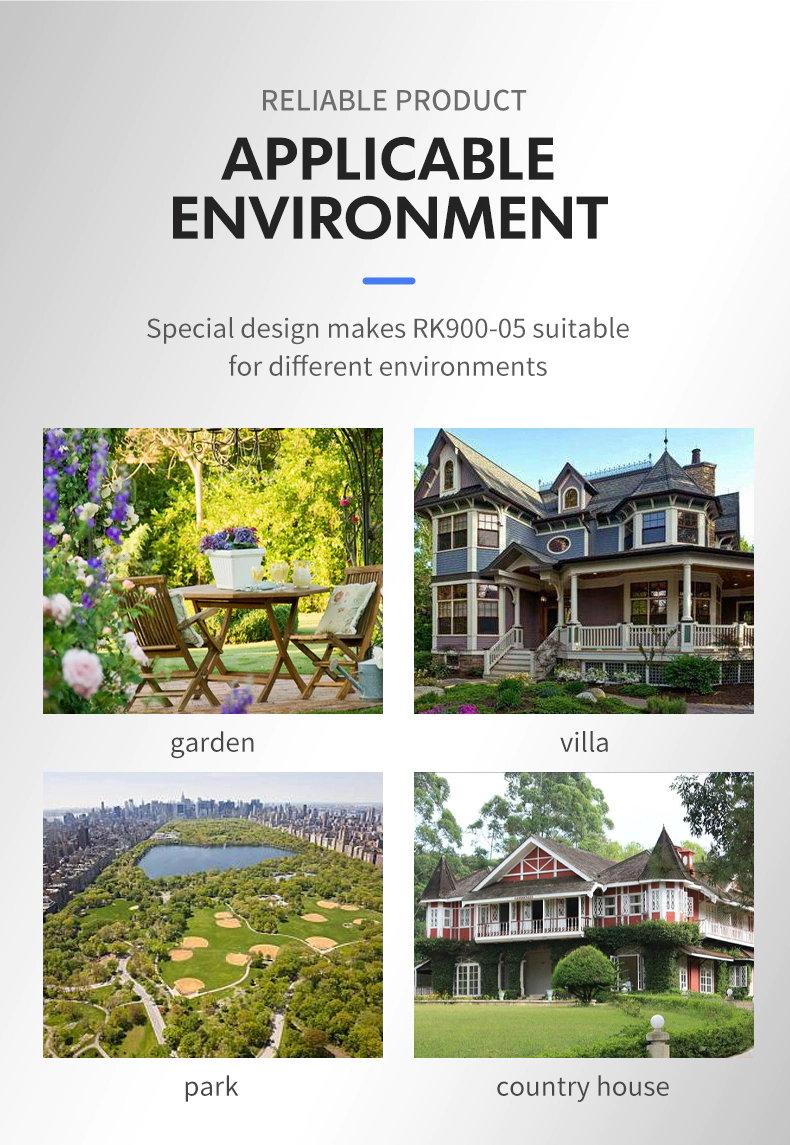 PRODUCT APPLICATION
| | |
| --- | --- |
| Agricultural | Solar PV Industry |
| Hydrological Monitoring | Highway And Railways |
| Meteorological Science Research | Courtyard |
Spesification
SPECIFICATIONS
Item

Range

Resolution

Accuracy

Outdoor Temperature
-30-+65?
0.1?
±1?
Outdoor Humidity
0-99%RH
1%RH
±5%RH
Rainfall
0-9999mm

0.3mm (< 1000mm)

1mm (≥ 1000mm)

±10%
Wind speed
0-50m/s (0~100mph)
0.1m/s

± 1m/s (<5m/s)

±10% (≥5m/s)

Illumination

0-400k Lu

1Lux
±15%
Indoor Temperature
-10-+60?
0.1?
±1?
Indoor Humidity
0-99%RH
1%RH
±5%RH
Barometric pressure
300-1100hPa
0.1hPa
±3hpa
Supply
Console
5V DC adapter (included)
Indoor sensor
2*AAA alkaline batteries (not included)
Outdoor sensor
3*AA rechargeable batteries (not included)
Transmission distance in open field
100m(330 feet)
Communication Frequency
433 MHz / 868 MHz / 915 MHz (optional)
Measuring interval outdoor sensor
16s
Measuring interval indoor sensor
64s
Alarm duration
120s
Batteries not included, due to battery is forbidden by air shipping.
DISPLAY INTERFACE
1.Wind direction
11. Heat index
2. Low battery indicator
12. Dew point
3. Weather Forecast / rel. pressure graph / In & Outdoor temperature graph / In & Outdoor humidity graph
13. Outdoor Temperature &Humidity
4. UV index
14. Indoor Temperature &Humidity
5. Light
15. Internet Connectivity
6.Barometric Pressure
16. WiFi Connectivity
7.Sunrise/sunset
17. Wind chill
8.Moon phase
18. Gust

9.Time and date

19. Wind speed
10.Rain fall